We have a shared passion for ethical and authentic food, prepared with love
Hailing from a humble beginning in Bronte 8 years ago, we have since embarked on ambitious and rewarding ventures in Byron Bay in 2015, Rosebery in 2016 and more recently Brisbane in 2018.
Although each of our locations differ greatly in aesthetic their philosophy and ethos remains very much the same. Our no-fuss way of dining and commitment to buying local and ethically farmed produce makes us proud to be seen as frontrunners in conscious consumption and a hit with visitors recognising our love of real food.

Sign up to our newsletter and get the latest news and recipes from the ducks.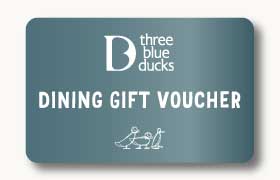 Dining Gift Vouchers
Share the Ducks with your mates
Our gift vouchers can be used for dining experiences at all Ducks locations!
News & Events
STAY IN THE LOOP
Reservations
After the huge success of Mr Yum at our Melbourne venue, at the URBNSURF wave park, we're stoked to announce that our Byron venue has jumped on the band wagon! Rock up, grab a seat [...]
Reservations
This week we are running our third Northern Rivers feature coffee from Old Quarter in Ballina. RUBY HILLS - MYANMAR Ingredients: Peach, dried apple, caramel, black tea. Origin: Mogok, Myanmar Origin: Mogok, Myanmar Roaster: Old Quarter [...]
All we've ever wanted is to cook with good mates, enjoy nature and put a smile on people's faces
SURROUND YOURSELF WITH THE GOOD STUFF