Dine in, grab some fresh produce, something from the BBQ or wander the fields of the 80-acre picturesque working farm with a house made picnic hamper. We also have a playground for your little ones!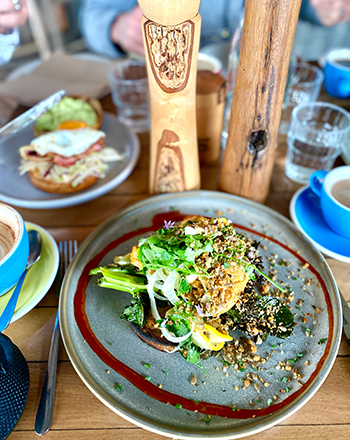 Breakfast & Lunch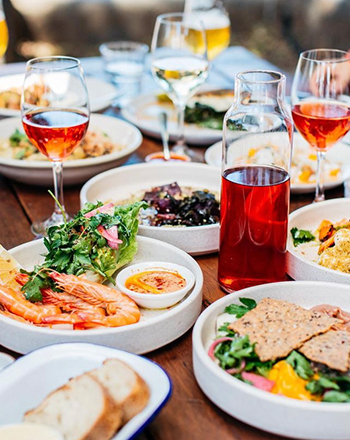 Dinner
BBQ Sunday Nights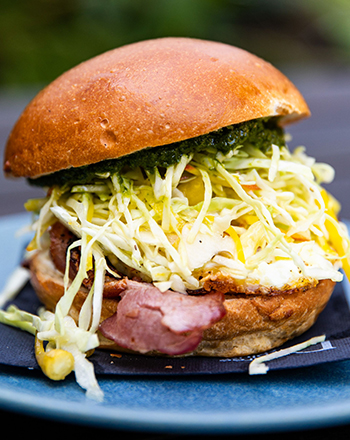 Ducklings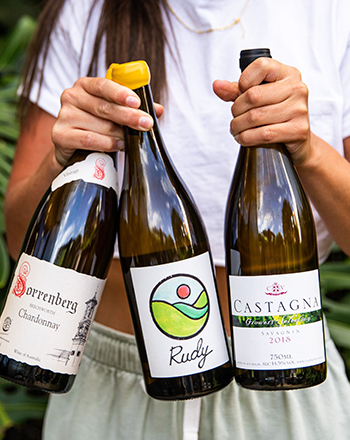 Drinks
& Wine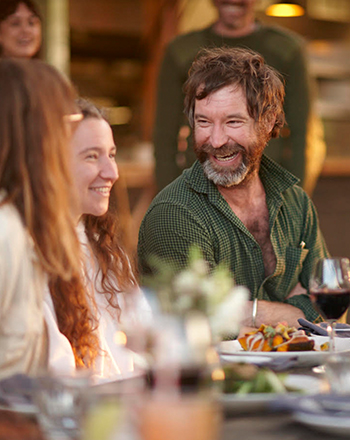 Group Menus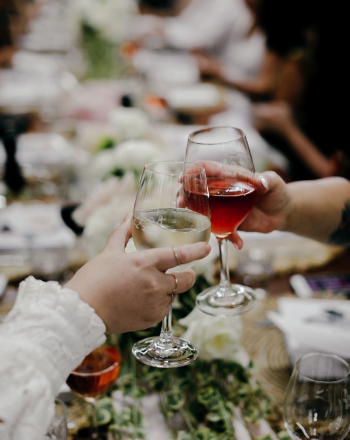 Valentines Menu
Monday 14th Feb
We work closely with The Farm community and ethical local growers and producers to deliver tasty, interesting dishes that reflect the goodness of the produce we source.
PICNIC HAMPER
Choose your own adventure
Bring your own picnic rug, wander along the farm trail past the pigs in their mud bath, the 700 Bond Brown chickens that lay our eggs, past the macadamia orchard and the fields planted with produce that we serve in the restaurant. Find a spot you like, spread out your rug and feast at your own leisure.
We'll send you off into the fields with a Three Blue Ducks bag filled with house made goods, locally sourced cheeses, charcuterie, parfait, dips, fruit, sweets, dried fruits, nuts, berries, and bread from our friends and next door neighbours, The Bread Social.
Click below for details or to place an order. Once preordered you can pick up your hamper at Three Blue Ducks Produce Store.
Three Blue Ducks at The Farm Byron Bay is set on an 80-acre farm and Macadamia Orchard with views of both the hinterland and Byron's iconic lighthouse offering a beautiful backdrop for any special occasion.
We have a choice of rustic farm-style locations, both indoor and outdoor, with garden planters, festoon lighting, a shaded terrace, cosy Produce Store and magical Macadamia Orchard a short stroll away, we can tailor a package and styling to your specific needs and ensure an event to remember.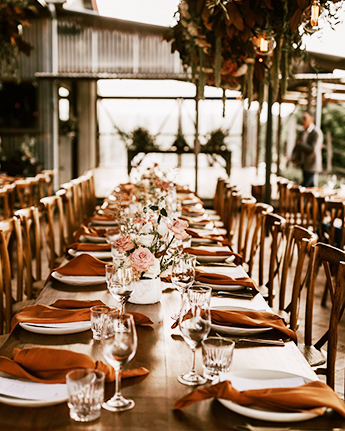 The Restaurant
The restaurant has been carefully designed to reflect the rustic charm of a farm barn with a modern twist that perfectly caters to signature styled weddings, parties and corporate events.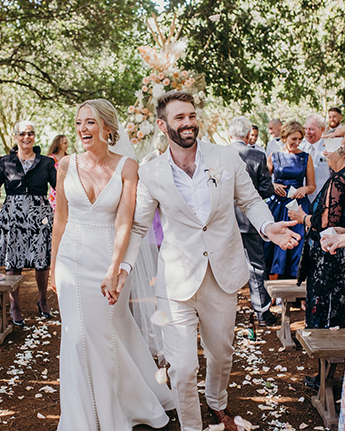 A short wander from the restaurant is a beautifully manicured organic Macadamia Orchard offering a stunning backdrop for a farm ceremony.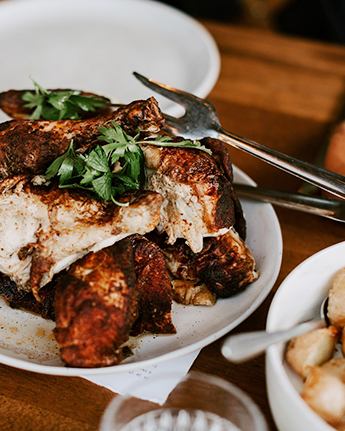 Let us bring our team and knowhow to your next event in the region.  For any occasion from intimate dinners, weddings, product launches or any kind of shindig let us do the hard work for you!
News & Events
STAY IN THE LOOP
Reservations
Ever wondered about our spent grain coffee soap situ? Well, let us explain the journey of our full circle coffee beans, and our pretty cool collaboration with @churchfarmgeneralstore. STEP 1: we order a truckload of [...]
Sam Martin
For the next week or so, our restaurant in Byron will be closed on and off due to COVID related staffing issues. Our produce store/bakery/take away store in Byron will remain open, providing our customers [...]
OUR LOCATION
Come Join Us
We look forward to opening our doors soon and resuming as normal.
For the moment the restaurant will be open 7 days a week for breakfast & lunch.
In the meantime our Produce store is still open for bar service, coffees, hot pastries, sandwiches, salads and cakes.
OPENING HOURS
Monday 7:30am – 3:30pm
Tuesday 7:30am – 3:30pm
Wednesday 7:30am – 3:30pm
Thursday 7:30am – 7:30pm
Friday 7:30am – 7:30pm
Saturday 7:30am – 7:30pm
Sunday 7:30am – 7:30pm
PRODUCE STORE:
Daily
7:00am – 4:00pm
Address
11 Ewingsdale Rd, Ewingsdale, NSW
Entrance off Woodford Lane
(02) 6190 8966

Sign up to our newsletter and get the latest news and recipes from the ducks.
Surround yourself with the good stuff