THREE BLUE DUCKS SHOP & GIFT VOUCHERS
At Three Blue Ducks, we might be known for our restaurants and events but our chefs also have a passion for making products with signature Ducks flavours that you can enjoy at home! Our Three Blue Ducks shop & gift vouchers page is the home of 'Real Food'! We stock a range of salts, herbs, jams, oils, pastes, sauces and cooking utensils that are perfect for gifting or the passionate home chef. Plus, a Three Blue Ducks gift voucher is the perfect gift for your loved ones…Our vouchers can be used for dining at all Ducks locations! We are continually updating our product range, so drop back into our online store or look out for updates on our News page or follow our journey on our social channels.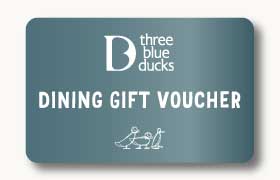 Dining Gift Vouchers
Share the Ducks with your mates
Our gift vouchers can be used for dining experiences at all Ducks locations!

Sign up for our newsletter and get the latest news and recipes from the ducks.
THREE BLUE DUCKS – SURROUND YOURSELF WITH THE GOOD STUFF