Our Argentinian grill in the garden gets fired up every chance we get at Three Blue Ducks Rosebery; with whole lambs, chickens, pigs and large cuts of beef, which pairs perfectly with the best ethically sourced and sustainably farmed produce.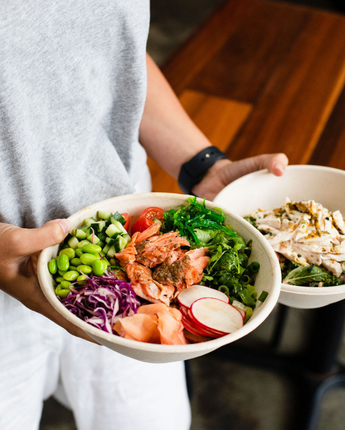 Mid-Week Takeaway Lunch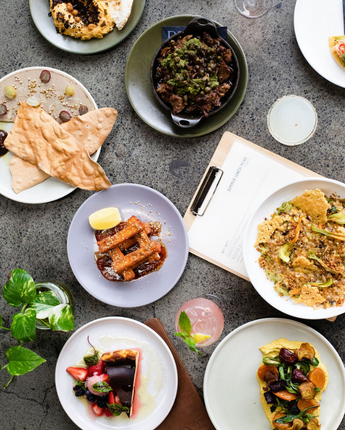 Group Menus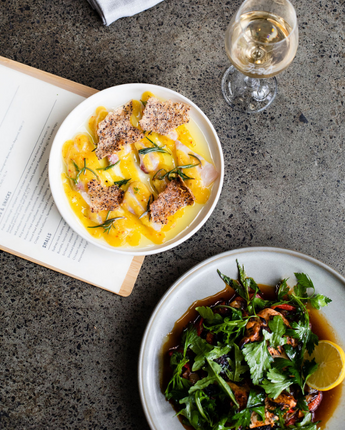 Feed Me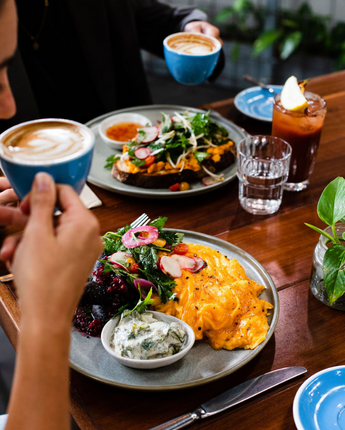 Breakfast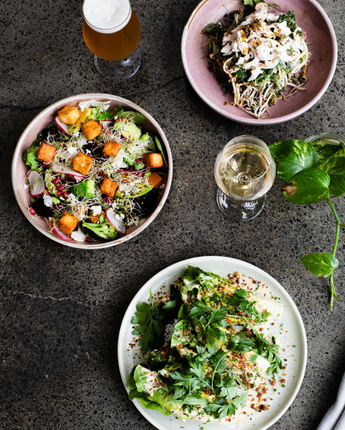 Lunch & Dinner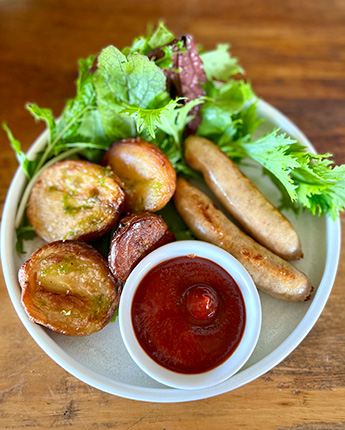 Ducklings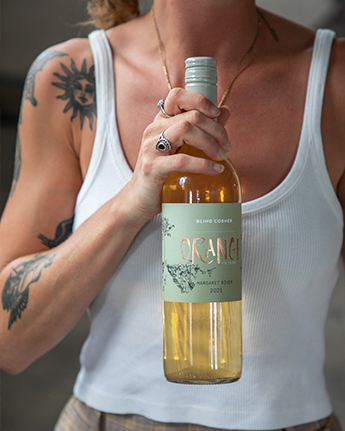 Drinks & Wine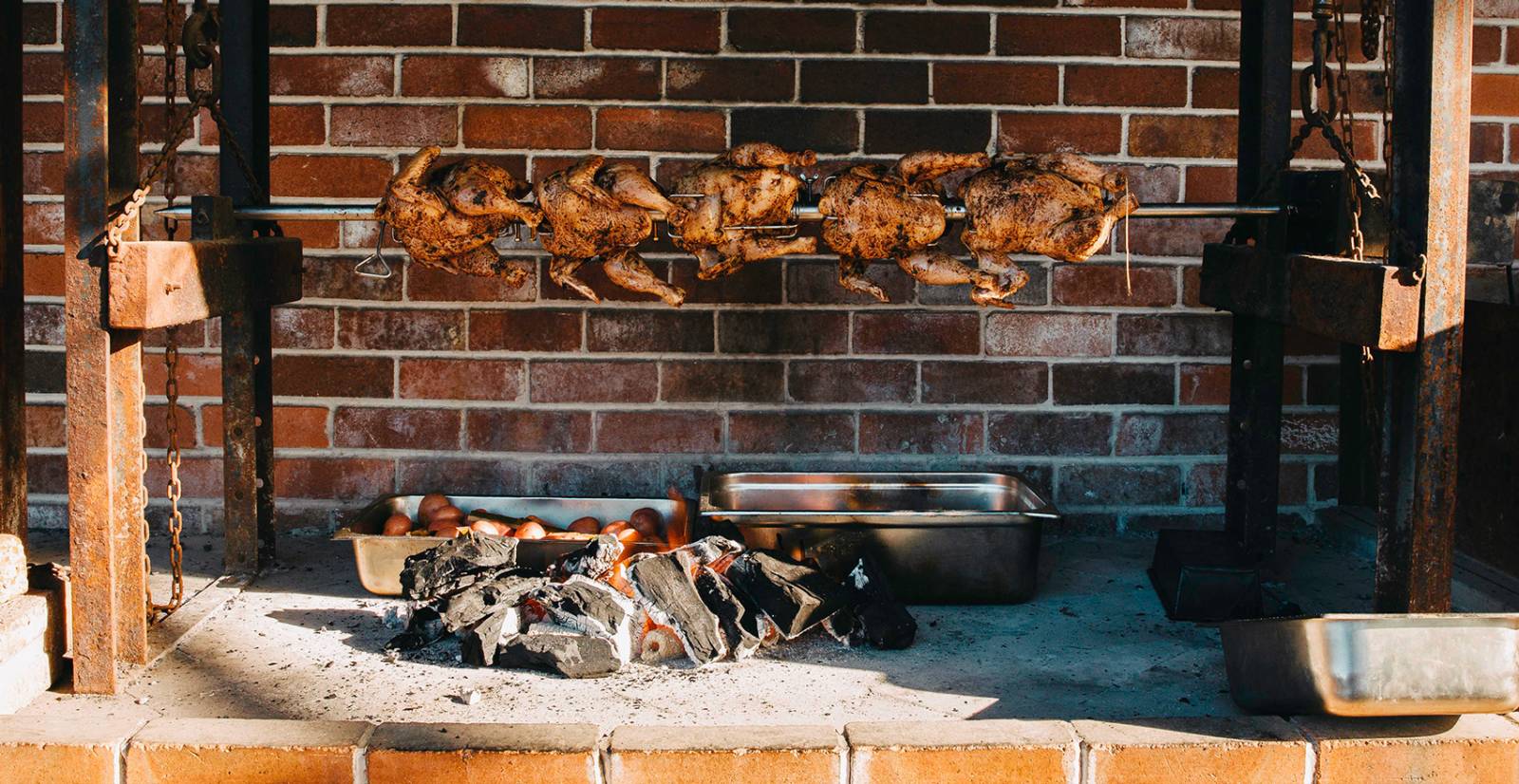 Our wood fired oven and two charcoal pits add smokey elements to a good number of dishes each service.
For veggie enthusiasts, we dedicate a bulk of the menu to seasonal produce from the markets. You can bank on honest and exciting food that's sourced sustainably and served in a relaxing environment.
FUNCTIONS & WEDDINGS
The Perfect Place to Celebrate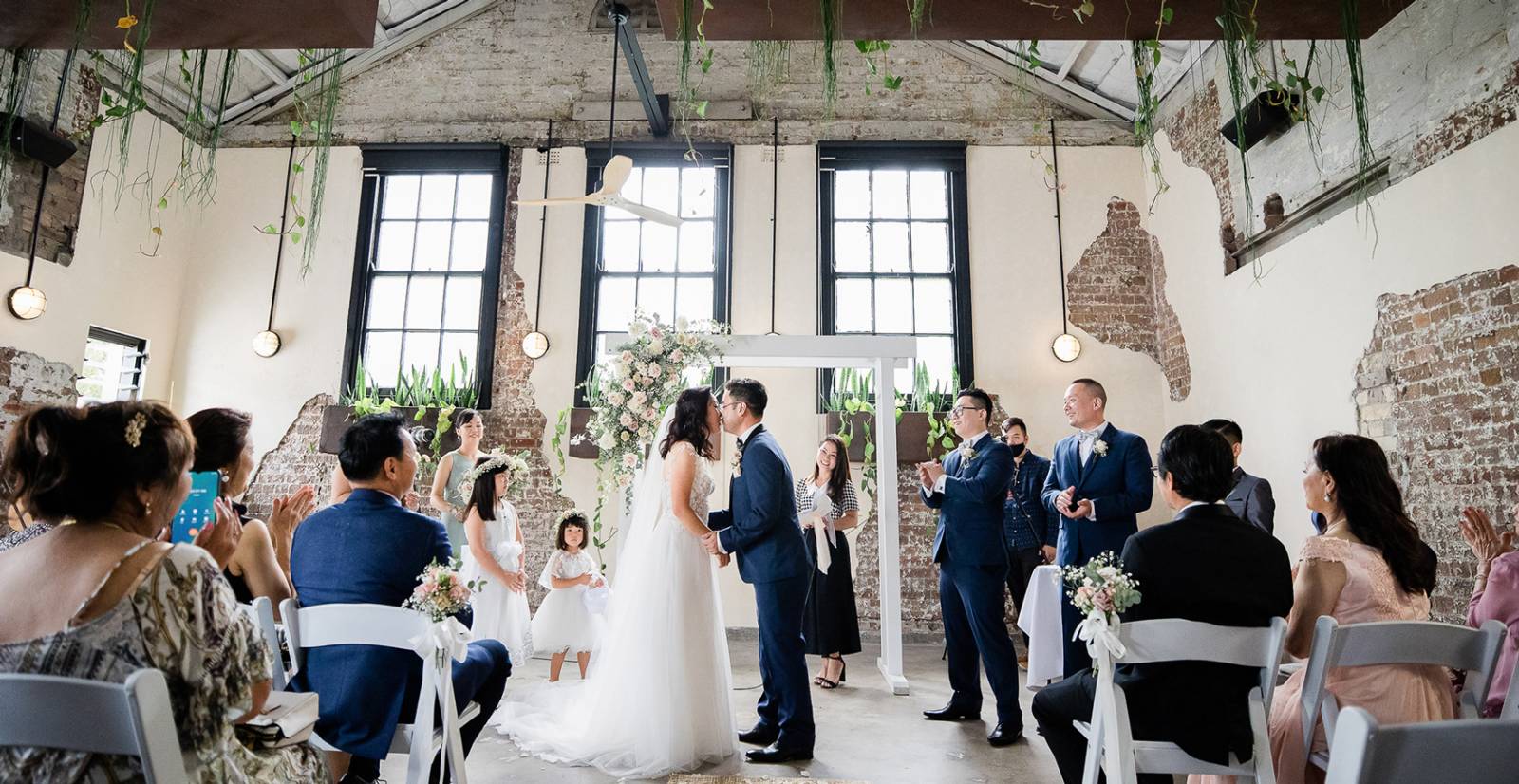 With our skilled teams of chefs and
event
planners, we're ready and able to accommodate any event,
from intimate groups to complete book outs for up to 250 guests.
Our range of different spaces allows you to customise the venue to suit your needs,
with two separate outdoor areas, as well as the main restaurant, and now our new Rosella Room upstairs,
we can make your event everything you want it to be.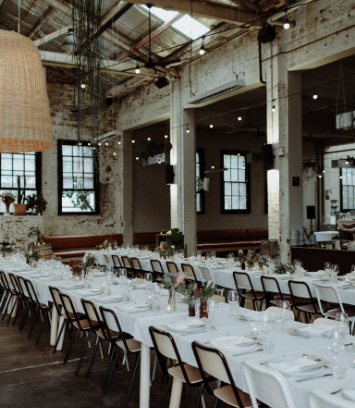 The Restaurant
This generous industrial space is a striking setting for a larger occasion with its high ceilings, drop down pendant lights and exposed brick walls. Stunning left as a blank canvas or a backdrop for more decadent styling.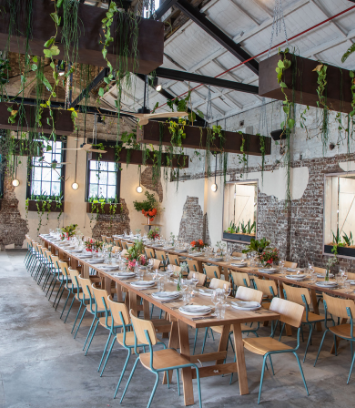 Rosella Room
Our brand new private event space is located above the existing restaurant. Its true rustic style comes alive with exposed beams, super high ceilings, stripped back walls and concrete floors. Rosella Room has a private bar, luscious indoor plants and natural light to bring out warmer elements to the industrial space.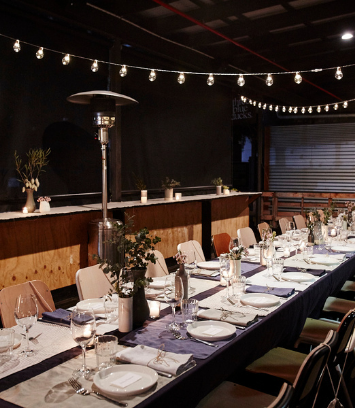 The Deck
Join us on the deck for intimate small gatherings such as team lunches, product launches, birthdays or as an entry feature for a larger function, beverage station for a drink on arrival for a roving event.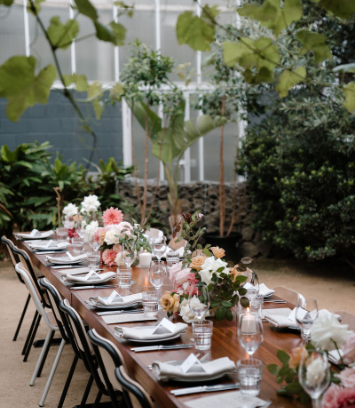 The Garden
Brimming with olive trees, grape vines and herbs, the popular sun-drenched garden courtyard is a beautiful location for an outdoor garden cocktail party under twinkling lights, a brunch setting or a lovely addition to a larger function.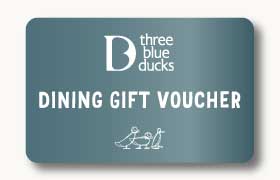 Dining Gift Vouchers
Share the Ducks with your mates
Our gift vouchers can be used for dining experiences at all Ducks locations!
News & Events
STAY IN THE LOOP
Bryony Corbett
We are stoked to announce that on Tuesday, 21st March, we're bringing Ducks takeaway lunch to Sydney! Our epic menu will be full of Ducks' favourites alongside some new additions. Whether you're dashing past & [...]
Reservations
Our Rosebery kitchen headed up by Michael LeCouteur & Co-Founder Marky LaBrooy has come out firing at the start of this year. Launching a new late summer lunch, dinner, Feed Me and Feast menus for [...]
OUR RECIPES
Cook like the ducks at home
OUR LOCATION
Come Join Us
OPENING HOURS
Closed for dinner on Friday 31st March & Saturday 1st April for a private events
Closed Mondays
Tuesday 12pm to 2.30pm – 5.30pm to 8.30pm
Wednesday 12pm to 2.30pm – 5.30pm to 8.30pm
Thursday 12pm to 2.30pm – 5.30pm to 8.30pm
Friday 12pm to 2.30pm
Saturday 8.30am to 11.30am – 12pm to 1.30pm
Sunday 8.30am to 11.30am – 12pm to 3pm
Address
1/85 Dunning Ave, Rosebery, NSW, 2018
(02) 7251 8662

Sign up for our newsletter and get the latest news and recipes from the ducks.
SURROUND YOURSELF WITH THREE BLUE DUCKS ROSEBERY!