We have a shared passion for ethical, organic, authentic and delicious food, prepared with love!
The Ducks is a great story of food, born in the surf! It all started with three good mates travelling the world, cultivating ideas around a better, more sustainable approach to eating and living. During this time, with a shared belief in cooking authentic and delicious food, Three Blue Ducks was hatched.
We returned to Bronte to enjoy the coastal surf lifestyle and soon our crew of three grew to six. We became friends organically over our love of sharing great food with no frills, cooking, fishing and surfing together, whilst maintaining an ethical and sustainable business that we are amazingly proud of to this day!
Since opening our flagship Three Blue Ducks restaurant in Bronte, we've opened an authentic and relaxed range of dining venues in Byron Bay, Rosebery, Brisbane, Melbourne and Nimbo.

Sign up for our newsletter and get the latest news and recipes from the ducks.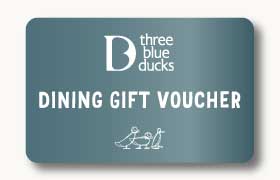 Dining Gift Vouchers
Share the Ducks with your mates
Our gift vouchers can be used for dining experiences at all Ducks locations!
News & Events
STAY IN THE LOOP
Bryony Corbett
Deliciously good dumplings thanks to chef & co-owner Darren Robertson! A fantastic way to pimp up a casserole or enjoy on their own.... Here's the recipe: 50g butter (grated) 30g cheddar (grated) 130g SR flour [...]
Sam Martin
Attention all foodies, wine lovers and locals. Three Blue Ducks in Byron Bay are excited to announce the launch of our Mussels Night starting Thursday 1st June We will be serving a selection of epic [...]
All we've ever wanted is to cook with good mates, enjoy nature and put a smile on people's faces. 
THREE BLUE DUCKS – SURROUND YOURSELF WITH THE GOOD STUFF